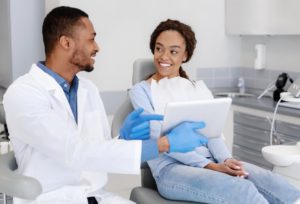 You've done the research, you're set in your choice—you want to replace your missing teeth with dental implants. But there's one thing you haven't done yet: meet with your dentist in a consultation. Do you really need this appointment? What exactly goes on during a dental implant consultation that is so important? Here are some of the things you can expect from this meeting so that you can have successful treatment and a positive experience.
Oral Examination
Before replacing your missing teeth with implants, your dentist needs to make sure your mouth is healthy. This means you can't have cavities on your remaining teeth, gum disease or other existing infections, which can cause failure or complications. For instance, gum disease can prevent the jawbone from growing and integrating with the implants as well as prevent the gums from healing around the posts.
Deeper Diagnostics
Your dentist will need more information than what they can see with the naked eye. For instance, in order to qualify for dental implants, you need to have enough jawbone density. The only way to check for this requirement is through X-rays. Through the X-rays, they can determine whether you need a bone graft or not.
In some practices, they utilize a cone beam CT scanner, which provides even more information. Instead of seeing only the teeth and jawbone in 2D images, this 3D image reveals soft tissues as well, allowing your dentist to know where blood vessels are located and plan the procedure more fully.
Discussion of Options
Dental implants may be one of the most popular choices, but they aren't the only solution to tooth loss. Each patient's case needs to be considered carefully in a discussion between them and the dentist. After a full examination, your dentist can then recommend the treatment that would best meet your needs. If you do not initially make a good candidate for dental implants, there may be procedures that can get you in a better position. For example, if you have untreated gum disease, performing periodontal therapy and getting the infection under control first will increase your chances of success.
Putting a Treatment Plan Together
Once you've decided that you want to move forward with treatment, you and your dentist can begin formulating a specific plan customized for you. This plan includes an estimated timeline, the number of appointments, the cost, and other details that you'll need to know before getting started.
Ultimately, you may be anxious to begin right away, but it's important to have this meeting with your dentist first. That way, everyone is on the same page, and complications can be minimized moving forward, giving you the best odds of successful dental implants for decades to come.
About the Practice
Our team at Beach Dental has about four decades of combined experience with placing and restoring dental implants. Each of our dentists, Dr. Jason Parli and Dr. Alexis Gersten, enjoys building a trusting relationship with patients and finding solutions that meet their individual needs. If you would like to schedule a dental implant consultation with Beach Dental, you can contact us through our website or by calling 631-325-0731.