Dentures – Westhampton, NY
Solutions for Missing Multiple Teeth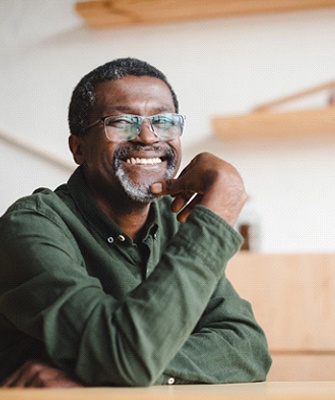 Tooth loss can be a frustrating and discouraging experience, and if you've gone through it multiple times, you probably already know how challenging it can be to live without a full set of teeth. It can not only affect your confidence but also impede your ability to eat and talk clearly. Fortunately, here at Beach Dental, we can help you feel great about your smile again with custom dentures in Westhampton. If you would like to explore your denture options, feel free to contact us and schedule a consultation!
Why Choose Beach Dental for Dentures?
Over 20 Years of Clinical Experience and Training
Implant Placement and Restoration Available
Customized Treatment Plan for Every Patient
Who is a Good Candidate for Dentures?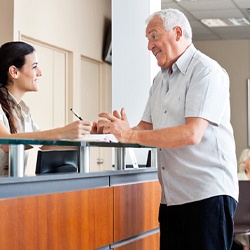 Other tooth replacement options have certain requirements. For instance to receive a dental bridge, your missing teeth must have at least one healthy tooth on either side of the gap. In contrast, dentures can be used basically for anyone who is missing multiple teeth, regardless of where they are located in an arch. Before creating your dentures, however, we will make sure that your mouth is healthy in general and ready for this restoration.
Types of Dentures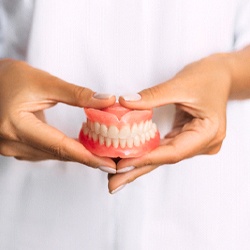 Dentures are a unique restoration because they consist of a gum-colored base with prosthetic teeth attached. Below are descriptions of the three types of dentures and situations in which they are the most beneficial.
Partial Dentures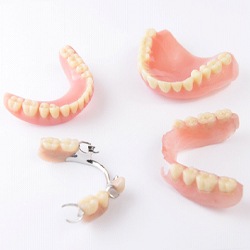 If you still have some strong natural teeth left in your smile, chances are that you want to preserve them for as long as possible. A partial denture fills in the gaps and holds onto your remaining teeth for stability using clasps, thereby keeping your teeth in proper alignment and the denture in place.
Full Dentures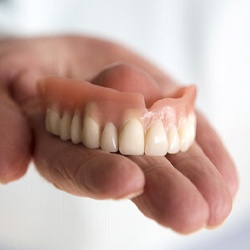 If you've lost all your natural teeth, full dentures can bring your smile's function and appearance. This type of denture is held in position through natural suction with your arch. Adhesives can also be used for added stability.
Implant Dentures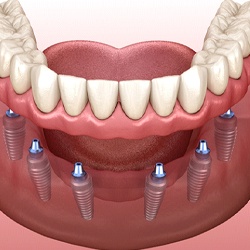 As much as modern dentures have improved in recent years, they only replace the crown or visible portion of your missing teeth. In other words, they rest on top of your gums, which allows the jawbone underneath to slowly deteriorate over time. If you want your replacement teeth to have more security and to have a more robust jawbone in the long term, we can attach your dentures to implants that act just like tooth roots.
The Benefits of Dentures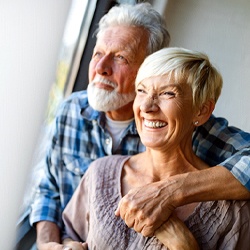 If you've gone any amount of time without replacement teeth, you are familiar with the difficulties of tooth loss. Annunciating and properly chewing your food become much harder without enough teeth. To hide your missing teeth from view, you may avoid smiling or drawing attention to yourself. In addition, any remaining teeth can drift out of alignment, changing your bite and causing a host of potential problems like TMJ pain and more tooth loss down the road. Dentures resolve all of these issues by enabling you to resume eating, speaking, and smiling in front of others and to feel more confident about yourself.