Orthodontics - Westhampton, NY
Beautifully Straight Smiles without Metal Braces
There are countless adults out there with misaligned teeth who wish they had gotten braces when they were younger, and now, they believe they're simply too old for the treatment. Thankfully, we're able to offer an orthodontic solution that was specifically designed with adult patients in mind: Invisalign. If you're looking to fix your crooked, crowded, and gapped teeth once and for all, Invisalign can help you do it, all without a mouthful of metal! To get started, contact Beach Dental today.
Why Choose Beach Dental for Orthodontics?
Advanced training in Invisalign techniques
All treatments performed and supervised by Dr. Gersten, not assistants
Certified Invisalign provider
Invisalign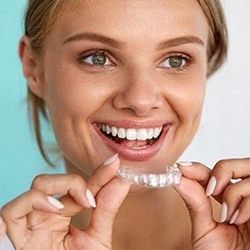 Instead of bulky brackets and wires, Invisalign uses a series of clear plastic aligners to gently straighten the teeth. They are designed to be extremely discreet while worn, meaning patients don't have to worry about friends or coworkers ever noticing their treatment. They are easily removable as well, so people don't have to alter their diet or brushing habits at all! In just 12-18 months, Invisalign can give a patient a perfectly straight set of teeth they'll be able to enjoy for a lifetime.
AcceleDent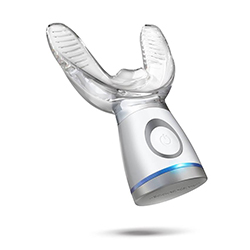 AcceleDent literally helps us accelerate a patient's orthodontic treatment using a simple handheld device. All a patient has to do is place their teeth into a small mouth rest and turn AcceleDent on. This will send small vibrations into the teeth, encouraging them to respond faster to the force applied by the orthodontics. It only needs to be used for about 20 minutes a day to dramatically shorten a treatment, helping patients achieve final results months ahead of schedule.