Implant Dentures – Westhampton, NY
Tooth Replacement Elevated to the Next Level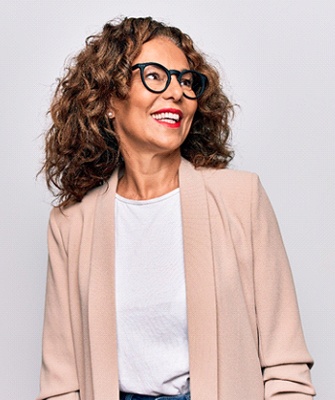 If you've ever worn traditional dentures, you're likely familiar with the little frustrations that come with them. At the beginning, they can be difficult to acclimate to, and then they can slide when you try to talk or eat, making you feel self-conscious. Fortunately, normal dentures aren't your only option! Here at Beach Dental, we are proud to offer implant dentures, which take your tooth replacements to an entirely new level. Want to learn more about implant dentures? Keep reading and then contact us to schedule a consultation!
>
Why Choose Beach Dental for Implant Dentures?
Entire treatment process performed in-house
Decades of dentistry experience and compassionate care
Advanced technology for precise results
What Are Implant Dentures?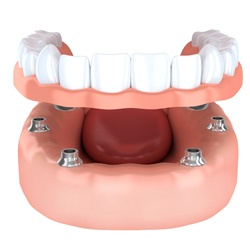 Like traditional dentures, implant dentures have a gum-colored acrylic base with prosthetic teeth. However, while traditional dentures rest on top of the gums and use suction to stay in place, implant dentures attach to the jawbone itself for added stability. This advanced solution to tooth loss replicates natural tooth structure and therefore offers advantages that tradition dentures alone simply can't.
Fixed/Permanent Implant Dentures
Many patients want their replacement teeth to feel just like the real thing. The best way to accomplish this is with fixed implant dentures. We'll place four to six implants throughout your jaw and anchor your denture on top of them. They'll stay firmly in place just like natural healthy teeth until you visit us for your regular checkups, where we can remove them for inspection and cleaning.
Removable Implant Dentures
If you'd prefer, we can make your implant dentures removeable. Instead of permanently attaching them to the implants, we can use snaps to give you the freedom to take out your dentures but still enjoy the security of implants.
The Implant Denture Procedure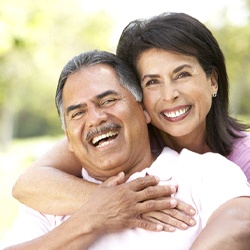 Overall, implant dentures require more time than traditional dentures. We start with a consultation, when we can plan how many implants you need and where they should be located. Then, we'll perform a surgical procedure to insert the implants into the jawbone. After a healing period of three to six months, we can place the abutment pieces and take impressions of your mouth. At that point, we'll create your dentures and bond them to the implants.
Am I a Candidate for Implant Dentures?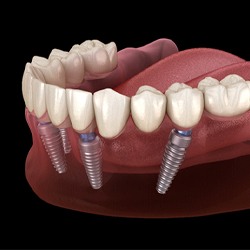 To qualify for getting implant dentures, you need to have a healthy, infection-free mouth. You also need to have enough jawbone density to support the implants. If you don't meet these standards, don't worry! There are therapies, such as gum disease treatment or bone grafts, that can help you get into a position where you become a good candidate for this treatment. When you meet with us at your consultation, we'll perform a thorough examination and let you know if these therapies are necessary.
Benefits of Combining Dentures & Dental Implants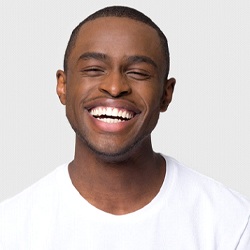 Although traditional dentures involve a much simpler process, implant dentures provide replacements that feel as natural as possible. They, like real teeth, are anchored in the jawbone, so you don't have to worry about slippage. Another common problem with traditional dentures is that they have to be replaced every five to seven years because the jawbone deteriorates over time. However, implant dentures stop this process, which means that your replacements can last for 30 years or longer!