Restorative Dentistry - Westhampton, NY
Custom Smile Repair for Westhampton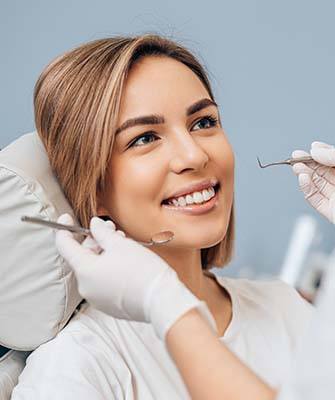 Every smile needs a little maintenance from time to time, and your smile is no different. Cavities, trauma, and even regular wear and tear can all lead to a set of teeth that looks and feels far from its best. At Beach Dental, however, we can provide you with custom-made restorations designed to make even the most longstanding dental problem disappear. With our specially-designed fillings, crowns, and bridges, you'll have your original smile back in no time! To learn more about your restorative options, contact us today.
Why Choose Beach Dental for Restorative Dentistry?
Restorations specially-made for each patient
Natural-looking all-porcelain restorations available
High-quality crowns in just one appointment
Dental Crowns & Bridges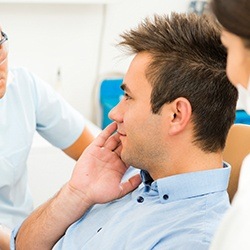 No matter what type of issue a tooth might have, crowns and bridges can be used to fix it. A crown can fully repair a broken or decayed tooth so that it looks like new again, while a dental bridge can easily replace up to 4 missing teeth in a row. All of our restorations are made using the most lifelike and durable materials available to deliver the best when it comes to both aesthetics and function.
SAME DAY CROWNS
At other dental offices in and around Westhampton Beach, you will need to visit them at least twice to have a tooth repaired with a dental crown. For most people, this simply isn't doable with their schedule. Understanding this, Beach Dental has invested in technology that enables us to fabricate and place high-quality porcelain crowns in just one streamlined appointment. In the time it takes for the average lunch break, you can get beautiful smile repair you can trust to last. Not to mention — you'll enjoy instant results and the digital impression system means you'll never have to deal with yucky, goopy traditional impression material again!
Tooth-Colored Fillings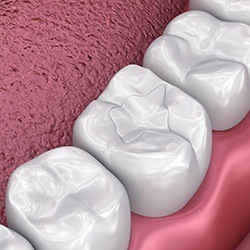 Traditional fillings are dark gray, make the teeth more sensitive to hot and cold temperatures, and they require quite a bit of healthy dental structure to be removed in order to be placed. Thankfully, tooth-colored fillings solve all of these issues! Made of composite resin, they can be shaded to perfectly match any patient's enamel, and because they are 100% metal-free, they don't increase dental sensitivity in the slightest. Plus, their malleable nature means we can preserve much more of a tooth while restoring it, which will help it last longer.
Dental Emergencies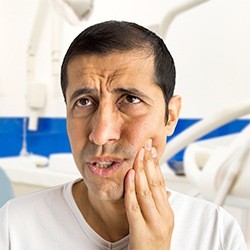 Dental emergencies can often strike without warning, leaving patients uncomfortable and worried. At Beach Dental, our dentists will do their best to accommodate urgent injuries and/or pain as soon as possible, so please don't hesitate to contact our location. We have the skills and expertise needed to relieve a wide range of situations, from "toothaches" and fractures to completely dislodged teeth. Our goal is to relieve any pain first and then start planning the ideal treatment to restore your smile's full health.