Dental Checkups & Teeth Cleanings – Westhampton, NY
A Simple Way for Lifelong Oral Health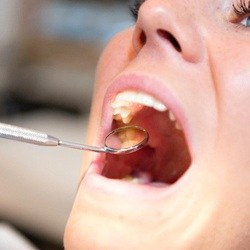 Every six months, you should come into Beach Dental for a checkup and teeth cleaning. Why? Other than your daily brushing and flossing, regular dental checkups and cleanings are critical to keep your smile healthy both now and later down the line. During this semiannual appointment, you get the basic care you need to defend against harmful bacteria and infection. Keep reading to learn more about how these biannual visits can help you!
Why is oral health important?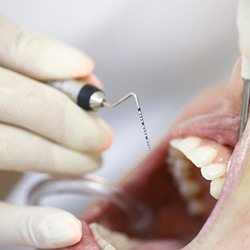 Perhaps at first glance, taking care of your mouth doesn't seem significant, but research shows that oral health issues are closely linked to serious systemic diseases and conditions, such as heart disease, pregnancy complications, diabetes, and more. Keeping your mouth healthy is a way to potentially reduce your likelihood or severity of these diseases. In addition, you need to have strong, healthy teeth in order to eat nutritious foods and enjoy a high quality of life.
What happens during a dental checkup?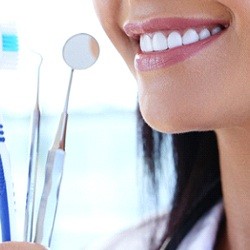 When you come in for your dental checkup, one of our attentive, knowledgeable dentists will thoroughly examine your mouth. They will carefully inspect every tooth, your gums, other soft and hard tissues, and your digital X-rays looking for any signs of trouble, including gum disease, oral cancer, and tooth decay. They will also check your bite alignment and the depth of the pockets in your gums to make sure that you're in good oral health. If they find something of concern, we can give you the treatment you need to get back on track as soon as possible.
Couldn't you just wait to get treatment until you notice a problem on your own? Unlike some medical conditions that you eventually overcome with time, oral problems only get worse the longer you delay. If you postpone dental care until you recognize a problem, it could already require extensive treatment to resolve or be extremely painful. In contrast, getting a dental exam with our skilled dentists prevents these problems from having a chance to develop into something more serious.
What happens during a professional teeth cleaning?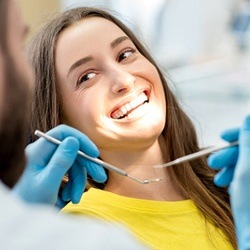 During this routine visit, one of our friendly, experienced hygienists will also take some time to clean your teeth. Plaque can build up and solidify especially in hard-to-reach places, such as between your teeth. Using specialized tools and training, your hygienist will remove these deposits and prevent the bacteria from having access to your teeth and gums and causing problems in the future. Finally, we'll polish your teeth, removing surface stains and leaving your teeth feeling perfectly smooth and fresh, and apply a fluoride treatment to strengthen your enamel.
Has it been a while since you've last had a checkup and cleaning? Call our office to schedule your appointment today! We can give you the dental care you need to make your healthy smile last for a lifetime.