Dental Implants - Westhampton, NY
A Permanent Solution to Tooth Loss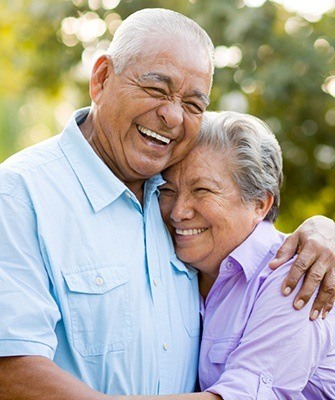 If you're missing one or more teeth, now is actually one of the best times to be alive, because you have numerous, reliable tooth replacement options available. The best one by far, however, is dental implant supported restoration. Any dentist will tell you this as well as those patients who currently have them. They outclass traditional bridges and dentures in every way, helping patients close the gaps and regain their confident appearance with one state-of-the-art treatment. If you're ready to make your tooth loss a thing of the past, give Beach Dental a call today to talk about dental implants.
Why Choose Beach Dental for Dental Implants?
Both placement & restoration performed in-house
Restorations specially-made for each patient
Cone beam technology aids in better precision and higher quality
Our Dental Implant Process
When placing dental implants, everything begins by putting together an extremely precise treatment plan. To do this, Dr. Parli uses a tool called a CBCT scanner, which creates a 3D X-ray image of the teeth, jaw, and surrounding structures, giving him much more information than your typical X-ray. This helps him completely tailor the procedure to a patient's unique dental anatomy. He also uses surgical stents to find the perfect locations within the jawbone for each implant, leaving nothing to chance. This use of advanced technology combined with his experience and training is why our implant patients enjoy a stellar 98% success rate.
Benefits of Dental Implants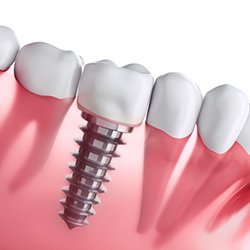 So what makes dental implants so special?
Regular replacements usually only bring back the part of the tooth you can see, which means they are still missing the underlying root structure. As a result, these solutions are much less stable and dependable than real teeth, forcing patients to alter their lives and restrict their diets to accommodate them.
Dental implants, however, do replace the root as well as the crown. Because of this, patients never have to worry about their new teeth shifting out of place, and the roots even help stimulate the jawbone and prevent bone loss. And, since implants have the same two-part construction as natural teeth, they look just like natural teeth as well, easily blending into any smile while completely restoring its appearance. Plus, thanks to their high-quality materials (titanium and dental porcelain), patients can expect their implants to last for about 30 years or more.
Indications for Dental Implants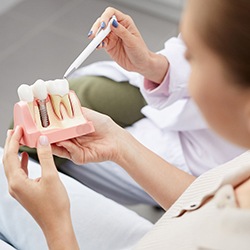 Dental implants are able to help patients no matter how many teeth they might be missing. After giving you a brief exam, our team can recommend which of the following dental implant options would be best for you:
Missing One Tooth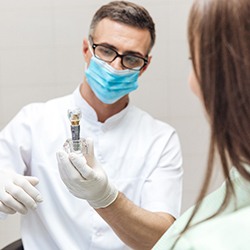 Traditionally, when replacing a single tooth, the surrounding teeth would need to be filed down in order to hold a bridge, but with an implant, we don't have to sacrifice any healthy dental structure. Instead, a porcelain crown supported by an implant root can be seamlessly placed between two teeth.
Missing Multiple Teeth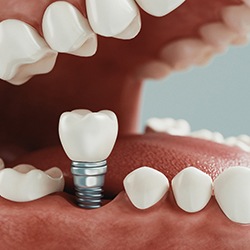 Instead of replacing each missing tooth individually, just two implant roots can be used to support a bridge that holds up to 4 consecutive teeth. Compared to a regular bridge, implant bridges look more natural and have a more secure hold.
Missing All Teeth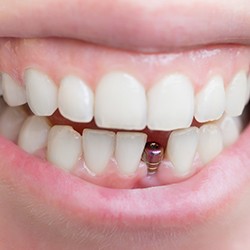 If you're tired of dealing with multiple missing teeth or an uncomfortable denture that constantly moves, implants can help you, too. A custom-made prosthetic can be attached directly to your jawbone using just 4-6 implant roots, giving you a stability a traditional removable denture simply can't replicate.
Start to Finish Convenience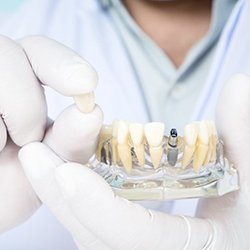 Every dental implant treatment begins with the new roots being surgically placed into the jawbone. This is a minor procedure, and most dental practices will refer their patients to an outside specialist to complete it. However, we're able to save our patients from the hassle of running between different offices by providing everything they need right here at Beach Dental. Our own Dr. Jason Parli has undergone advanced training and has years of experience which enable him to perform the placement procedure in-house, helping patients rebuild their smile in the same convenient location from beginning to end. Best of all, our 3D cone beam imaging technology allows us to take advanced measurements, such as bone density, that help Dr. Parli select the optimal location for your implant(s), translating to better quality, longer-lasting tooth replacements.
Understanding the Cost of Dental Implants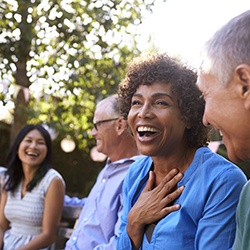 Because dental implants can be used in a variety of ways based on a patient's specific needs, the cost of the treatment can vary quite a bit as well. Factors such as the number of implants needed and what kind of restoration is used are just two aspects that can make the procedure more or less expensive from patient to patient.
Whatever the cost might be, however, implants will certainly give you the most bang for your buck compared to any other tooth replacement. In addition to providing the best aesthetics and function possible, they are also extremely durable. While regular bridges and dentures have to be completely redone every 5-7 years (compounding their costs), implants can often last for 30 or more, helping a patient save thousands on retreatments by comparison.
Learn More About The Cost of Dental Implants
Frequently Asked Questions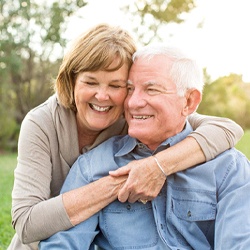 Before you move forward with dental implant treatment, you want to be sure that you fully understand this essentially permanent solution. After all, these replacement teeth can last for more than three decades. At Beach Dental, we strive to empower you to make informed, confident decisions by giving you as much information as possible. As you read all this about dental implants, questions may come up. Although scheduling a consultation is the best way to get accurate information for your specific situation, we've provided the answers to some of these questions right here. If you find that you need and want to know more, feel free to contact our team. We'll schedule your consultation with Dr. Parli.
How are dental implants able to restore nearly all your natural biting power?
Because dental implants most closely resemble natural tooth structure, held firmly in place by the jaw bone, they are able to offer stability that other replacement options can't. With dental implants, you'll never have to worry about your artificial teeth slipping or coming loose when you bite or chew your food, helping you maintain healthy nutrition more easily.
What can cause dental implants to fail?
Overall, dental implants are overwhelmingly successful. In fact, even 10 years after the placement procedure, about 95 to 98 percent of implants are still functioning and looking well. However, rare cases of failure do happen. If failure occurs soon after placement, it is likely the result of an untreated infection like gum disease or of not having enough bond density to support an implant. Once implants have become integrated with the bone, they can fail if you don't properly maintain them. To avoid both short-term and long-term failure with your implants, you can trust Dr. Parli to thoroughly evaluate your oral health and help you keep your restored smile healthy and strong year after year.
What kind of maintenance is involved with dental implants?
Although the procedure for placing and restoring dental implants is complex, the care required to maintain them is not. Basically, you just need to brush and floss your teeth daily and visit Beach Dental for checkups and cleanings twice every year. Through these simple, yet powerful and effective habits, you can make your new smile last for many years to come.
Am I a good candidate for dental implants?
The only way to know whether you qualify for dental implants is to schedule a consultation with us at Beach Dental. When evaluating your eligibility for dental implants, Dr. Parli looks to make sure that you are in good oral health and that your jaw bone has sufficient density and strength to support the implant. The good news is that even if you don't immediately qualify for dental implants we can perform procedures that will get you back on track for this advanced treatment.