Invisalign - Westhampton, NY
Subtle. Effective. Beautiful.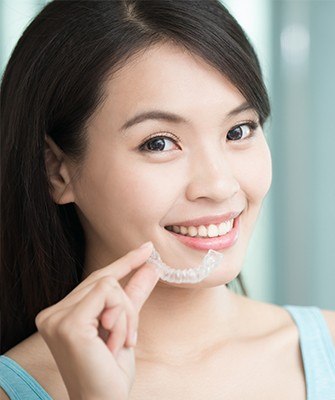 For years, any adult who wanted to straighten their teeth felt like they couldn't because their only choice was metal braces. They simply couldn't imagine going to work or hanging out with friends with a mouthful of metal. With Invisalign, however, now they don't have to. Designed to be discreet and extremely comfortable, this treatment is perfect for older patients who are looking to improve the health, appearance, and function of their smile all at the same time.
Why Choose Beach Dental for Invisalign?
Dr. Gersten: Certified Invisalign Provider
Specially-designed to fit every smile
Often able to work faster than traditional braces
How Does Invisalign Work?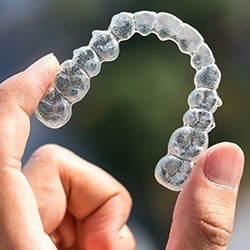 The key to Invisalign is that instead of metal brackets and wires, a patient simply has to wear a series of lightweight, clear plastic aligners that slip easily over the teeth. Each one will be shaped to slowly bring the smile into its ideal orientation, and a patient will be able to notice results at each step of the process. After wearing every aligner in the series for about 2 weeks for 20-22 hours a day, a patient will see a perfectly straight set of teeth in the mirror.
Why Patients Love Invisalign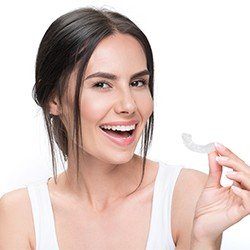 Practically Invisible: The aligners are designed to look like they aren't even their when worn, ensuring patients can speak and smile with complete confidence throughout their treatment.
Comfortable: Every patients' aligners are shaped using a 3D scan of their mouth, ensuring the smooth plastic fits perfectly among the lips and gums.
Convenient: Whenever it's time to eat or brush your teeth, you can simply take Invisalign off until you're done. This way, you can maintain your normal life while getting the smile you've always wanted.
Fast: While regular braces usually take about 2-3 years to finish treatment, Invisalign can often straighten the teeth in just 12-18 months.
How to Get Started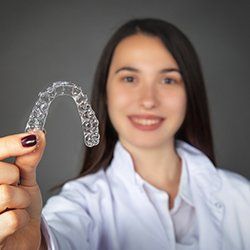 If you're interested in getting Invisalign, the process couldn't be simpler. Just give Beach Dental a call, and we'll schedule a consultation right away. We'll perform a quick exam, and if Invisalign would be a good fit for you, we'll begin designing your aligners at the same appointment! Before you know it, you'll have a beautifully straight set of teeth you'll be able to enjoy for the rest of your life.
To begin your journey to a straighter smile with Invisalign, contact us today.
Frequently Asked Questions about Invisalign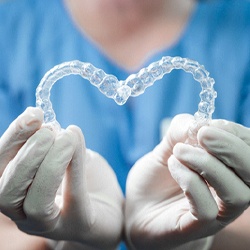 Although Invisalign treatment can be completed in less time than traditional braces, it can still feel like a big commitment. Our team wants to help you feel confident moving forward with treatment, which is why we're providing answers to some of the most common questions about Invisalign. If you still want to know more information about it, we invite you to give us a call, and we'll schedule a consultation for you.
What should I do if I lose or misplace my aligners?
It's important to stay on track with your treatment and follow our instructions, but we understand that these clear aligners can be misplaced. If this happens to you, just contact our office. We'll see you as soon as possible and get you back on schedule.
Can I drink with my aligners in?
When you drink coffee, wine, dark soda, or any other colored beverage, you need to remove your Invisalign aligners to prevent staining. Even clear liquids can discolor the aligners over time. The only exception is water; otherwise, be sure to remove your aligners before you take a sip so that they stay clear, clean, and discreet.
How do I maintain my Invisalign aligners?
Although you'll only wear the aligners for two weeks at a time, plaque and bacteria can build up quickly, potentially causing tooth decay and defeating the whole purpose of having clear aligners. Basically, you need to take care of them to make sure that your smile stays healthy throughout treatment.
Every day, when you take the aligners out to brush and floss your teeth, take a minute to gently clean the aligners using either toothpaste or clear dish soap and rinse them thoroughly in warm water. Do not use hot water, which can warp the plastic. Plus, after you're done eating, make sure you brush and floss your teeth to keep plaque to a minimum. To avoid smelly aligners, make sure you rinse them off when you remove them from your teeth.
What happens after treatment ends?
When you've achieved the final results, we'll provide a retaining set of aligners that help keep the teeth in their new straight position. At first, you'll wear them all the time, but eventually, you'll be able to wear them only at night to prevent your teeth from shifting out of alignment.
How much does Invisalign treatment cost?
The cost of Invisalign treatment depends on many factors that can vary from patient to patient. These include the severity of misalignment, the timeline of treatment, how well you follow the treatment plan, and more. When you come in for your consultation, Dr. Gersten will be able to create a customized treatment plan and give an accurate estimated timeline. Using that information, our team can provide a price quote. When you're ready to schedule your consultation, just contact Beach Dental and get the straight smile of your dreams.