Dental Crowns – Westhampton, NY
Advanced Repair for Advanced Tooth Issues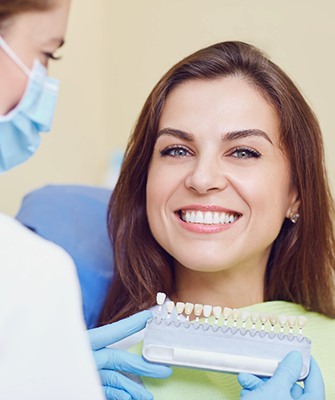 Whenever possible, our team at Beach Dental uses the least invasive treatment to address an issue. In many cases, we are able to restore the visible portion of the tooth with fillings. Unfortunately, some problems with a tooth need more advanced repair, which usually means a dental crown will be involved. If you would like to learn more about dental crowns and how they can help your smile, don't hesitate to schedule an appointment with us.
Why Choose Beach Dental for Dental Crowns?
Same-day crowns available
Advanced technology with digital impressions
20+ years of clinical experience
What is a Dental Crown?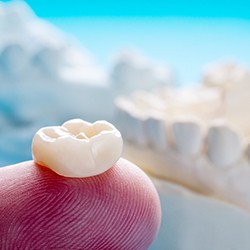 A dental crown is a ceramic prosthetic cap that goes on top of a tooth. This tooth may be:
Decayed or damaged beyond what a filling can repair.
Broken and need a crown to hold the tooth together.
Small or misshapen, meaning a crown would correct the issue.
A dental implant, which is embedded in the jawbone like a real tooth.
With a crown on it, the tooth becomes functional again.
The Dental Crown Process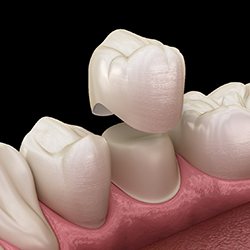 Getting a dental crown generally follows these steps:
Any preliminary work is performed. This could include root canal therapy or reducing the tooth to make space for the crown.
Impressions are taken of your upper and lower teeth with a digital scanner.
We design your custom crown, and it is created in our office in about an hour.
Finally, we bond the crown in place and make any small tweaks necessary for the perfect fit.
The Benefits of Getting a Dental Crown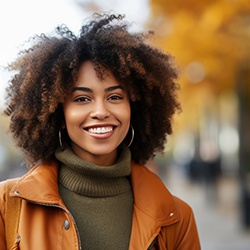 Compared to many other dental practices, we provide a dental crown in record time. Instead of having two separate appointments and wearing a temporary crown, you can leave with your personalized restoration in just one visit.
When you get this type of crown, you not only receive a strong, durable restoration, but you also enjoy the appearance of a natural tooth. As a result, very few people should notice that it's different from the pearly whites around it. In addition, if you take good care of your crown by brushing and flossing every day and coming for regular checkups and cleanings, your dental crown should last between 10 and 15 years!