Porcelain Veneers – Westhampton, NY
Your Smile Completely Transformed
Do you want to improve your smile, but you're not sure where to start? Do your teeth have multiple flaws that you wish you could resolve all at once? The good news is that you may not need to have separate procedures that stretch over a long period of time in order to get the smile you want. It's possible to address your imperfect teeth with a simple procedure—porcelain veneers. Our experienced dentists at Beach Dental can give you a bright, beautiful smile that you'll be proud to show off.
What are porcelain veneers?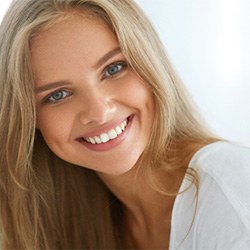 Porcelain veneers are very thin sheets of ceramic material that are attached to the front surfaces of your teeth, essentially hiding them from view. As a result, our team at Beach Dental can use porcelain veneers to improve your teeth's appearance from the following flaws:
Chipped or cracked teeth.
Small or misshapen teeth.
Gaps between teeth.
Discoloration that isn't impacted by professional whitening.
Mildly crooked teeth.
With porcelain veneers, your teeth can have a flawless look that will give you another reason to smile more often and more enthusiastically.
What are the benefits of porcelain veneers?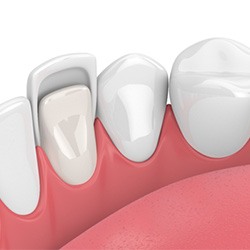 In addition to a beautiful aesthetic, porcelain veneers have the following advantages:
Natural appearance. You won't have to worry about your veneers looking fake. The porcelain material reflects light the same way that your enamel does, so no one will be able to tell.
Durability. Your porcelain veneers are strong enough to withstand normal wear and tear and enable you to bite, chew, speak, and smile with confidence.
Stain resistance. This type of veneer actually resists stains better than your natural tooth enamel for a long-lasting brilliance.
How are porcelain veneers placed?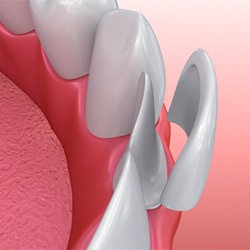 To get started with porcelain veneers with us at Beach Dental, you first need to have a consultation with one of our skilled dentists. After the two of you have discussed your treatment options and determined that porcelain veneers are the right choice for you, we will follow this process:
Your dentist will remove a small portion of your teeth's enamel to make space in your mouth for the veneers. They may administer a local anesthetic beforehand to avoid any discomfort.
Then, we will take impressions and measurements of your teeth and send this information to a dental lab, where your custom porcelain veneers will be created.
Before you leave our office, we will attach temporary veneers.
When the final products are finished, you will return so that your dentist can permanently affix the veneers in place, instantly perfecting the look of your smile.
How can I make my porcelain veneers last?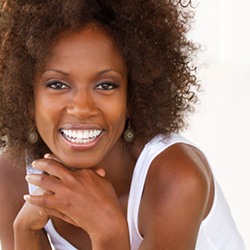 As is the case with most dental work, the lifespan of your porcelain veneers can depend on how well you maintain them. But luckily, they require the exact same home care that you give your natural teeth. Basically, you need to brush twice and floss once daily. We are experts in the in-office care of dental veneers, special pastes and instruments need to used in order for your veneers to last a long time and look beautiful. Keep up with your scheduled hygiene appointments at Beach Dental keep your veneers looking beautiful.
So what are you waiting for? Your dream smile is within reach when you partner with our team at Beach Dental. Contact our Westhampton office today to schedule your consultation!