Replace Missing Teeth - Westhampton, NY
Eat, Speak, & Smile with Confidence Again
Missing teeth can cause so many problems that extend well beyond someone's dental health. Eating becomes more difficult, speech feels awkward, and self-esteem quickly goes out the window for most people. Thankfully, with the right replacement, we can address all of these issues at the same time, improving someone's quality of life tremendously in the process. If you're ready to have a complete smile and the confidence that goes with it, give Beach Dental a call today.
Why Choose Beach Dental for Tooth Replacement?
Dental implant placement & restoration provided under one roof
Better technology = better care
Highly-skilled team with decades of experience
Dental Bridges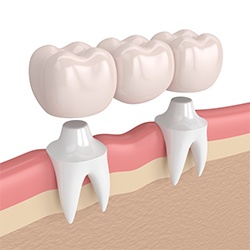 A dental bridge uses the strength of your own teeth to replace any that might be missing. Two dental crowns are placed on the teeth surrounding a gap, and these provide support for the prosthetic. Bridges can restore up to 4 missing teeth in a row, helping a patient regain their natural appearance and oral function at the same time. Here, our bridges are always custom-made to ensure the perfect fit.
Dentures
A denture is a type of prosthetic that enables us to replace several missing teeth throughout the mouth at the same time. Partial dentures can fill in the gaps while fitting comfortably among any remaining teeth, while a full denture can restore an entire arch at once. No matter what your situation might be, our team will work to create the perfect look and fit so you can trust your denture whether you're eating your favorite food or smiling at a friend.
Dental Implants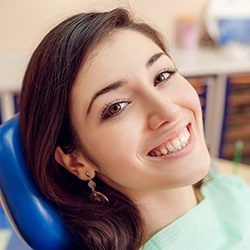 If you ask any dentist, they'll tell you that dental implants are the best tooth replacement available today by far. Instead of just restoring the visible portion of a tooth, they bring back the root structure below the gum line as well, creating something that is natural-looking, strong, and incredibly durable. Patients who choose implants basically feel like they've gotten their teeth back, regaining their bite and self-confidence for a lifetime to come.