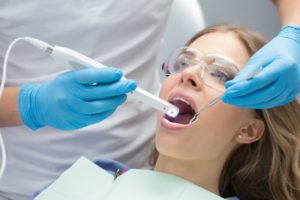 In recent years, cameras have made leaps and bound forward. Nowadays, your phone can take crisp, beautiful photos, which you can then post on social media with a few touches. In the dentistry field, many dentists have started to use intraoral cameras in their practices. These small devices easily fit inside the mouth and capture images that are instantly displayed on screens for both dentist and patient to view. But can this camera technology really make that much of a difference? How do photos of the inside of your mouth help with your dental visits? Read on to find out!
Better, Sooner Diagnosis
Let's face it—there isn't much extra room inside your mouth for your dentist to have an unobstructed view of everything. The mirror instrument makes seeing these tight areas easier, but getting a closeup of an issue is nearly impossible without an intraoral camera. This piece of technology allows your dentist to zoom in on decay, suspicious tissue, or other problems.
By getting a clearer, closer view of issues, your dentist can potentially identify cavities, gum disease, oral cancer, and many other problems earlier. In many cases, this leads to more conservative and more successful treatments. For example, when oral cancer is detected in the early stages of development, patients can have up to a 90 percent survival rate, whereas that rate drops significantly in later stages. In common cases, intraoral cameras could mean the difference between a filling now or a crown later, but in others, it could be life or death.
Enhanced Documentation
Everyone likes to see a nice transformation and compare the before and after photos. While sometimes these are best taken outside the mouth, getting an intraoral viewpoint can be beneficial as well. These images can help you see just how much your smile has been improved because of treatment and fully appreciate the work you get done.
Stronger Trust Between Dentist and Patient
No matter how you contort yourself in front of a mirror, there are certain areas of your mouth you won't be able to see on your own. Without intraoral cameras, you have to take the dentist at their word if they see a cavity you can't feel, which is common early on. However, with this device, you can see with your own eyes decay or troubled spots that need attention before they cause you pain. When your dentist is completely transparent and shows you these intraoral images, you can more easily understand your dentist's genuine concern for your well-being and learn to trust them.
Easier Decision Making for Patients
When you believe your dentist, making decisions about your oral healthcare becomes much simpler. Instead of hemming and hawing, unsure of what to do, you can see for yourself what needs to be addressed, take advice from a trained professional you respect, and feel confident about moving forward with treatment.
In the end, your dental visits may not necessarily change fundamentally. However, using this technology, your dentist can enable you to play a more active role in keeping your smile strong and healthy. You can feel a little more empowered and comfortable in the chair, knowing that you can see what's going on inside your mouth.
About the Practice
The dentists at Beach Dental are no strangers to most innovative technology available in dentistry. In their practice, Dr. Alexis Gersten and Dr. Jason Parli utilize intraoral cameras, a cone beam CT scanner, CEREC same-day crowns, soft tissue lasers, and the Wand, which delivers local anesthetic in a more comfortable, stress-free way. They stay on top of these advancements in order to make the dental experience more efficient and effective for their patients. If you would like to learn more about the technology used at Beach Dental, you can contact the team through the website or by calling 631-325-0731.