How Implants Work – Westhampton, NY
Feel Confident in Your Complete Smile Again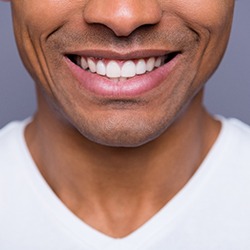 In the world of tooth replacement, dental implants are considered the most advanced option available. Unlike traditional bridges and dentures, which simply rest on top of the gums, implants are more complex. As a result, our team here at Beach Dental realizes that this process may be confusing to those who are new to it. Here is the general gist of how implants work in Westhampton. Although we hope this information offers clarity, don't hesitate to reach out to our office if you have questions or if you are ready to get started!
Initial Dental Implant Consultation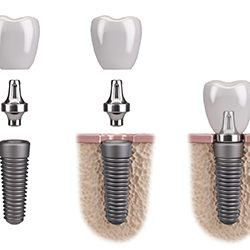 Before we begin any treatment, but especially before implant placement, we schedule a meeting solely to evaluate your smile, discuss the procedure, answer any questions you may have, and create a personalized treatment plan. Using our cone beam CT scanner, we are able to meticulously map out the procedure so that we encounter fewer complications down the road. During this consultation, we can also give you a more accurate idea of what you can expect in terms of the timeline and the cost for your specific case.
Dental Implant Surgery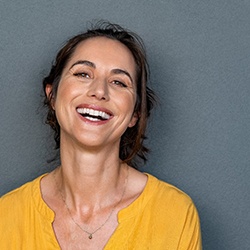 When you have decided that you want to proceed with implants, we'll schedule the placement surgery. This may sound intimidating, but the procedure is actually quite simple for our highly trained and experienced team. First, we will administer a local anesthetic so that you're completely comfortable and numb. We'll then make a small incision in the gum tissue to insert a small titanium post beneath the surface and into the jaw bone. After closing the site, we're finished!
Dental Implant Osseointegration & Abutment Placement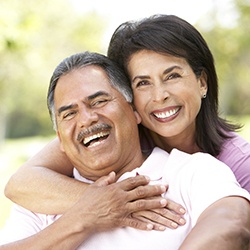 Although the implant site on the gums should heal within a few days after placement, "recovering" fully from the procedure requires more time. The implant stimulates new bone growth, which surrounds the implant just like with natural tooth roots and keeps it in place. This process, called osseointegration, takes anywhere between three and six months to complete, but once the implant is firmly embedded in the bone, we can then insert the abutment, or connector piece between the post and the restoration.
Placement of Dental Restoration
Once the abutment has been placed, we'll create your custom restoration. Whether just a single crown or a full denture, your restoration will look and feel just like natural teeth, not just because it will be artfully crafted out of porcelain and other durable materials but also because it will be anchored to the jaw bone. As a result, you'll be able to enjoy the foods you love again with a strong bite that lasts for years to come.