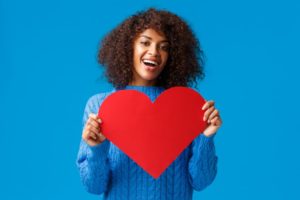 In February, every store has pink and red hearts everywhere—it makes perfect sense that February is the month we celebrate not just love but also American Heart Health Month! During this time, you're probably learning about various ways to take care of your heart, such as regular exercise, drinking plenty of water, and eating more heart-healthy foods, just to name a few.
But did you know that maintaining a strong smile can play an important in helping your heart? In this blog post, you'll see just how essential caring for your teeth and gums can be for your cardiovascular health.
Gum Disease and Heart Health
Numerous studies have shown a strong connection between gum disease, also called periodontal disease, and cardiovascular disease. In fact, research indicates that those with this common gum infection are two or even three times more likely to experience a heart attack or stroke, and that high blood pressure is much more difficult to control in patients who have unhealthy gums.
But how does an infection in the gums impact your heart health? Gum disease basically involves inflammation caused by bad bacteria in the mouth. Scientists surmise that these bacteria from the mouth enter the bloodstream and spread to other places in the body, exacerbating inflammation in veins, arteries, and more. In turn, this makes blood circulation more difficult and adds stress to the heart.
What Gum Disease Looks Like
Healthy gums are firm and pink, and this infection begins with red, swollen gums that easily bleed. In fact, many people first notice a problem when they see blood in their spit after brushing their teeth. Later on, if left untreated, gum disease can progress manifesting in receding gums, loose teeth, bone loss, and eventually even tooth loss.
How Your Dentist Can Help Your Heart
Although your dentist may not be the first person who comes to mind when you think of helpful resources for your heart health, they can be a helpful addition to your wellness team by keeping your mouth infection free. In addition to diligent at-home oral hygiene, regular appointments are essential for a strong smile.
At routine checkups and cleanings, your dentist inspects your teeth and gums for signs of the disease and removes plaque buildup that allows inflammation-causing bacteria to thrive. As a result of these visits, your dentist in Westhampton can control the environment in your mouth, potentially lowering the inflammation in your body and making it easier for your heart to function properly.
Ultimately, little things you do can make a big different in helping you strengthen your heart. While you're making positive changes to your lifestyle, be sure to remember your oral care. It's worth taking the time for regular dental visits to ensure that your heart has the best chances of staying healthy for many American Heart Health Months to come.
About the Practice
At Beach Dental, we treat patients to improve not just their oral health but their overall health as well. , In addition to her memberships in the American Dental Association and New York State Dental Association, Dr. Alexis Gersten has previously served on its Geriatric Board of the Special Care Dentistry Association. Dr. Jason Parli has continued to develop his skills through continuing education through studying with Spear Dental Education, one of the country's most prestigious organizations. If you think you have gum disease or are due for a dental visit, you can contact Beach Dental by clicking here.