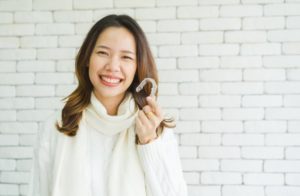 You've worked hard over the years, and you really want that promotion you deserve. But you're nervous about it because your misaligned teeth may be keeping you from standing out from the other candidates. You likely already know that Invisalign in Westhampton allows you to subtly straighten your teeth, but what is the Invisalign treatment process really like? In this post, we'll describe all the steps that take you from beginning to end so that you know what to expect.
Step 1: The Consultation
The first step toward a perfectly straight smile is meeting with your dentist. This appointment is important because they need to examine your teeth to make sure they're healthy enough for this treatment. They also need to evaluate the kinds of changes that need to be made. Whether you have a crossbite, overbite, underbite, or open bite, Invisalign can correct mild to moderate misalignment.
Step 2: Diagnostic Information
Invisalign is not a cookie-cutter treatment. From beginning to end, the aligners are customized to the patient's specific treatment plan. To prepare the aligners, your dentist will take impressions of your teeth, capture photos of your teeth, and take measurements. They then send this information to the dental lab, where your aligners are fabricated.
Step 3: Getting and Wearing Your Invisalign Aligners
A few weeks later, when your aligners have arrived, you start by wearing the aligners for 20 to 22 hours every day. You should only remove them for eating, drinking, and daily oral care. After meals and snacks, you need to brush and floss your teeth before putting the tray back in. To prevent plaque buildup or staining, you should gently brush your aligners under warm water every day. After two weeks, you throw your old aligners away and begin wearing the next set in your treatment plan.
Step 4: Follow-Up Appointments
Throughout treatment, you'll need to visit your dentist, typically every six to eight weeks or so. These appointments are an opportunity for your provider to make sure that your teeth are shifting according to plan. If necessary, they can alter your treatment plan or provide guidance to make compliance easier.
Step 5: The Final Touch
Once you've reached your final set of aligners, you're not quite finished with treatment yet. Afterward, you'll need to wear a retainer appliance so that your teeth don't regress into their old alignment. At a certain point, you'll only put this appliance in while you sleep, allowing you to enjoy your newly straightened smile for years to come!
Understanding the entire process of Invisalign treatment can help you make the right decision for you. Could Invisalign be the solution you're looking for? Are you ready to have confidence in your smile? Contact your dentist to get started!
About the Practice
Beach Dental has been serving the Westhampton area for more than two decades now. Dr. Alexis Gersten and Dr. Jason Parli collectively take hundreds of hours of continuing education courses to continue bringing the best care that dentistry has to offer to local patients. We are also proud to offer Invisalign as one of our many top-tier services. If you have questions about the Invisalign process or if you would like to start Invisalign, you can contact us on our website or by calling 631-325-0731.