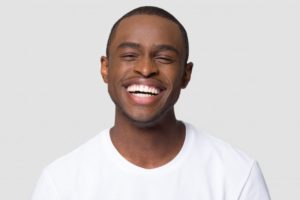 As a result of an accident, you have a tooth that is too badly damaged to be saved. While explaining your options for tooth replacement, your dentist seems to be especially enthusiastic about dental implants. Well, their excitement may be warranted! Did you know that about 95 percent of dental implants are still successful even 20 years after they've been placed? Meanwhile, dentures and bridges have to be replaced at most every seven to ten years. But what is the secret to dental implant success over other options? How can you be sure that implants are right for you? Read on to find out!
Implants Imitate Nature.
Teeth are a little like icebergs—there's much more beneath the surface. Traditional dentures and bridges only replace the top portion of the missing tooth. As a result, the jawbone slowly dwindles, leading to a changing profile and a sunken look. However, implants have a structure similar to natural tooth roots, which helps to keep the jawbone stimulated and healthy.
Implants Are Durable.
While you had natural teeth, you took your biting force for granted, but now that you have to deal with dentures, you definitely feel a difference in what can eat and how you eat it. With traditional prosthetics, you may not be able to enjoy carrots, apples, or steak like you used to. In fact, studies show that dentures only restore at most 30 percent of your original biting power.
Like tooth roots, dental implants are embedded in the jawbone, giving your replacement teeth stability that traditional dentures and bridges simply can't offer. With implants, you can have up to 70 percent of your original biting power, enabling you to have a more balanced, healthy diet.
The Best Providers Use Advanced Technology.
Compared to many other procedures within dentistry, dental implants are among the most complex. It requires careful, detailed planning; otherwise, the patient could experience complications or setbacks in the process. Fortunately, dentists who really know what they're doing use advanced technology to help them accomplish an even better success rate.
A cone beam CT scanner creates a 3D model of the oral cavity. This image shows much more than just bone structure; it also provides the location of blood vessels, tissue, and other important information so that the dentist knows exactly how to place the implant without causing any additional hiccups.
Experience Matters.
Dental implants are often successful, not just because of their structure or the cool gadgets used, but also because of the dentist placing them. The skills and training of your provider can play a huge role in the success of your dental implants, which is why it's important to choose your dentist wisely. Find a provider who has the experience to handle your case and ensure success from the beginning.
Ultimately, while you can choose whether to replace your missing tooth with a traditional prosthetic or an implant, it's hard to overlook or disregard the success you could have with the latter. When you look back 20 or 30 years from now, are you going to be happy with your choice?
About the Practice
Beach Dental is proud to provide dental implant treatment to patients in the Westhampton area. Dr. Jason Parli and Dr. Alexis Gersten each have decades of experience in dentistry and bring expertise to every appointment. They also use a cone beam CT scanner in dental implant cases to ensure success. Would you like to learn more about this treatment? You can contact Beach Dental through the website or by calling 631-325-0731.