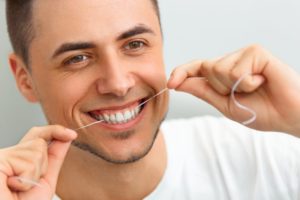 At your routine cleaning and checkup appointment, you find out that you don't have any cavities. Feeling pretty good about yourself, you then are asked this question: do you floss? You timidly answer no. Your dentist doesn't judge you, but they strongly emphasize why flossing is important and encourage you to do it at home.
Maybe you never saw it as essential. You forget. You think you don't have time. Whatever the reason for not flossing in the past, you have plenty of reasons to start doing it today!
Brushing Alone Isn't Enough.
Even those who regularly visit the dentist and brush their teeth every day need to floss because brushing only cleans about 20 percent of your mouth. The bristles of your toothbrush can't reach between teeth and get especially low around the gum line. That's where flossing comes in to catch the plaque and bacteria that you have missed in your brushing routine.
Flossing Prevents Gum Disease.
Although this habit may seem insignificant, it can have a huge impact on your smile's appearance and health. When plaque accumulates at the gumline, the gums can become infected with inflammation-causing bacteria. At first, gums look puffy and red, but later they can recede. The infection can then spread to and degrade the bone tissue, eventually leading to tooth loss. The simple act of flossing every day, along with brushing and regular dental visits, can stop this from happening.
Flossing Doesn't Take Very Long.
If you're like most people, you're extremely busy. Even the smallest delay in your schedule can throw the whole day off. However, flossing is a necessary habit to develop. Fortunately, it only requires a couple of minutes to do, and it should take place right before you go to bed. You can squeeze a few minutes into your schedule for something as important as flossing, right?
Flossing Isn't Terribly Complicated.
The technique used for flossing is rather simple. Basically, you take a string of floss that's about 18 inches long and wrap one end around your left middle finger a couple of times. Then, wrap your other middle finger a few times, leaving a gap of a few inches between your hands. Using your pointer fingers and thumbs, gently guide the floss in between your teeth. Create a C shape against one tooth and slide it back and forth, going slightly below the gumline all the way to the top of the crown. Repeat with the other side. After flossing between two teeth, rewrap your fingers to get a clean area of floss for the next space.
In the end, this small habit can help you avoid large problems down the road. It's worth taking the time and attention to do it every day. You and your dentist are sure to notice a difference at your next checkup!
About the Practice
Although we offer services for repairing damaged smiles, Beach Dental focuses on preventive care first. We encourage all our patients to floss on a daily basis and can teach you the proper technique if needed. With years of dentistry experience, Dr. Alexis Gersten and Dr. Jason Parli find satisfaction in helping patients achieve lifelong oral health. If you have questions about flossing, or if you would like to schedule an appointment, you can contact Beach Dental by calling 631-325-0731 or through our website.