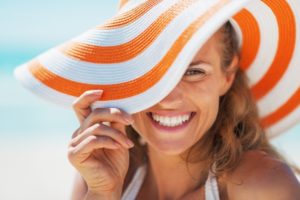 After the past year and a half you've had, you're more than ready to go outside and enjoy yourself. And the timing couldn't be better with the weather warming up! Whether it's having a barbecue with friends, going to the beach, or simply taking a walk around your neighborhood, you can finally leave your mask at home and smile. But is it summer ready?
Now is the perfect opportunity to get work done on your teeth through one or a combination of the following cosmetic procedures, so you can show off your most beautiful, confident smile.
Invisalign Treatment
If you have crooked or misaligned teeth, you may want to correct them but have stayed away from orthodontia because of the metal brackets and wires. Invisalign offers a different solution that doesn't interfere with your appearance. These clear aligners basically disappear, which means that most people won't be able to tell the aligners are there.
Another great benefit of this treatment during this time of year is that you can remove them. When it's time to eat your favorite summer foods like corn on the cob or go see a movie and enjoy popcorn, you simply take the aligners out and then brush and floss your teeth before putting them back in.
Teeth Whitening
Just as you try to get into shape before swimsuit season, wouldn't you like your smile to be as bright as the sunshine? With teeth whitening, it can be! Years of stains can attract the wrong kind of attention, but your cosmetic dentist can remove discoloration. Take-home whitening trays when combined with in-office whitening has been shown to provide the best results, and within just a few weeks, you could have significantly whiter teeth.
Correcting Chips
Perhaps your teeth have likely endured a lot of stress this year. From eating overdone, home-cooked meals to teeth clenching while you sleep, your teeth can chip or crack. If your teeth have become chipped or have cosmetic cracks, you don't have to learn to live with them now that things are starting to improve. Your cosmetic dentist may be able to fix the issue with cosmetic bonding. In just one appointment, you can fill in those chips and have a complete smile again.
Looking for a longer-term solution to your chipped teeth? Porcelain veneers last for decades at a time and are more stain resistant than composite resin. These coverings look exactly like real enamel and only require two appointments to place, making them a popular treatment.
This summer, things won't be perfectly back to normal, but you can at least feel confident about sharing a friendly smile with those around you. Consider one or more of these treatments so you're ready to enjoy your fun in the sun!
About the Practice
Beach Dental has been serving patients from the Westhampton area for more than 20 years. Dedicated to continuing education and excellence, Dr. Alexis Gersten and Dr. Jason Parli provide Invisalign, whitening, cosmetic bonding, veneers, and more to help patients love their own smiles. If you would like to learn more about these procedures, you can contact Beach Dental through our website or by calling 631-325-0731 and schedule a consultation.